MOUNT OLIVE DEMOCRATs
GET THE LATEST NEWS ABOUT OUR EVENTS AND CANDIDATES
---
Sign up for our Newsletter
---
Upcoming Events
APRIL 1ST FOOD DRIVE COMES TO WOODFIELD! On Saturday, April 1st, from 10:00-Noon, our monthly…
---
We Come Together
---
We come together because we are optimistic about what we can achieve together. We come together because we work as a community to achieve our goals. We come together because we work towards opportunity for all in a prosperous, healthy, well-educated, clean and safe country. We come together because we serve the community and respect those who do serve and have served. We come together because we are united. We come together because we can do this together.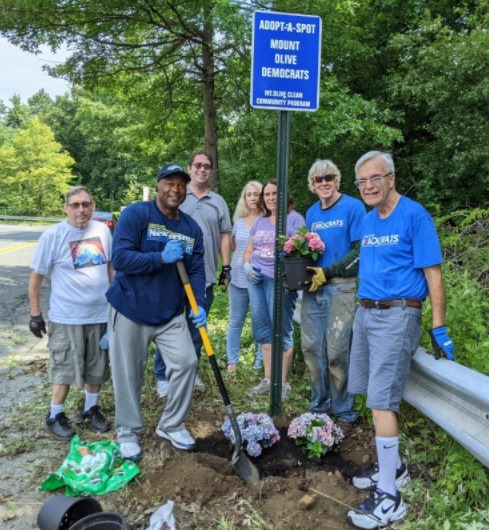 Meet our Executive Committee
---
We are passionate about building our democratic party and improving Mount Olive.
Andy Meissner
Chairperson
Andy Meissner and his wife Christine have lived in Mount Olive since 1984, first on Flanders-Drakestown Road and then beginning in 1995, in Flanders Crossing.  Andy and Christine raised a daughter and son in Mount Olive and are now proud grandparents.  Andy retired from AT&T last year after 35 years in leadership positions in Marketing, Program Management and Information Systems.  
Andy's passion for politics began in 1968 when his family saw both Richard Nixon and Hubert Humphrey campaign for president at a local airport on Long Island. As a teenager, Andy canvassed with local assembly and town council candidates and was elected to several positions in high school and college.  Since 2008, Andy has been actively involved in voter registration, phone banking and canvassing. Andy's priorities for the Mount Olive Democrats are to continue to build our organization, provide a home for people to share their passions for our country and our democratic values, re-elect Congressman Tom Malinowski, and provide opportunities to participate and contribute in as many ways as possible. Andy would like to meet with as many people as possible either over coffee or while canvassing through each of your districts (his real passion!) to talk about our experiences, unique talents and suggestions on how we can all be successful in 2020 and beyond.
Irene Sergonis
Vice Chairperson
Irene and her husband Sergio have lived in Mount Olive since 1980. We have raised two daughters and a son and now have four beautiful grandchildren. Irene has worked as a Payroll Coordinator at Ronetco Supermarkets since 1997. Irene also helped her husband open & run an electric motor repair business from 1990 to 2018. Irene has served as a volunteer for the Girl and Boy Scouts of America, Mount Olive Park Partners, League of Women Voters and St. Andrews Greek Orthodox Church. Irene also founded the Mount Olive Volleyball Association and served as the President for 10 years. Irene has been involved with the Mount Olive Democrats since 2017 and ran for a Town Council in 2019. Irene is proud of her contributions to the successful 2018 Malinowski campaign and is thrilled with the excellent work Tom Malinowski is doing to represent our district. She looks forward to building the Mount Olive Democratic Committee and celebrating a winning 2020 for all of our candidates.
Alicia Sharma
Treasurer
Alicia Sharma is an accounting professional and a lifelong volunteer. She was born in Guyana and spent the majority of her life there before moving to Canada and then the United States. She has lived in Mount Olive with her husband, Edmund, and two of their six kids since 2015. Alicia received her MBA from the University of Scranton and currently works as the Assistant Controller for a private school.
Alicia decided to become more politically involved after becoming a US citizen in 2020. So, she ran for Town Council in 2021 and for a seat on the Morris County Commissioner Board in 2022. She is currently a trustee for the Mount Olive Public Library, where she has been appointed to the finance and budget committee, the strategic planning committee, the nominating committee, and the building and grounds committee. She also serves as an advisor to the Mount Olive Recreation Advisory Board, assisting in the planning of community events. In addition, she is a board member of the Woodfield Home Owners Association in the Woodfield neighborhood where she lives.
Alicia is proud of the Mount Olive Democrats' hard work for Tom Malinowski in 2022, and she hopes to continue this work through collaboration. Her goal as treasurer is to ensure that there is enough money to support the party's vision for 2023 and beyond.
When she is not busy with politics, she loves to cook, listen to music (all genre), spend time with family and friends. She also loves to watch her Bollywood movies and Zumba is her favorite form of exercising.
Sheri Merkel
Secretary
Sheri was born in Brooklyn, NY (Sheepshead Bay), moved to Long Island when she was 5 years old and came to Mount Olive 9 years ago when the company Sheri was working for offered her a promotional position in NJ. Sheri was looking for a new construction town home in a beautiful area with a strong sense of community. When Sheri found Morris Chase under development in Budd Lake, she knew this was her place and she has been very happy here!
Sheri has one sister who lives in West Orange (who knew they would both end up in NJ) and lots of great friends across the country. 
Sheri lives with her two wonderful 100 lb. fur-babies, Jessie (age 6) and Roxie (age 4). They are both German Shepherd rescues from Alabama and were extremely happy the country voted to put Champ and Major in the White House in 2020!
LATEST POSTS
In 1972, Mount Olive adopted a Mayor-Council Form of Government under the Faulkner Act. Both…
Get your name on the June 6th Primary Ballot! Help build a stronger democracy in…
(Basking Ridge, NJ) Today, Tom Malinowski released the below statement. "I am deeply grateful to…
Board of Education elections are non-partisan in New Jersey and Mount Olive Democrats do not…
Mount Olive Democrats were pleased to welcome two guest speakers to our August Monthly Meeting….
Letter to the Editor written by Virginia Reiner of Flanders and published in Mount Olive…
Letter to the Editor submitted by Andy Meissner and published in the Mount Olive Chronicle…
Letter to the Editor Written by Liz Dircks in Flanders published on 2/19/22 in Mount…
The League of Women Voters Morristown Area and co-sponsor Elected Officials Caucus of Morris County…
HELP FEED THOSE IN NEED MOUNT OLIVE DEMOCRATS CELEBRATE ONE YEAR OF GIVINGThe Mount Olive…
---
Get Your Free Pocket Constitution Today
Fill in your name and address and we will mail you "The U.S. Constitution & Fascinating Facts About It" . It contains the entire text of the Constitution, the Bill of Rights, the Declaration of Independence and much more!
Available in English & Spanish!
VOTING RESOURCES
---
Your Vote is Your Voice. Take Steps to Make Sure Your Voice is Heard. Register, Vote in Every Election and Invite Your Friends to Join You at the Polls. Be The Change You Wish to See.
---
---
Contact us to get started
---
We look forward to hearing from you.