Want to make a difference?
Learn more about the ways you can get involved and fill out our interest form below.
No one can do everything but everyone can do something.
---
Canvass-
In person visits are the best way to educate and motivate voters. Training is provided and you will work with a partner.
"I've learned that people will forget what you said, people will forget what you did, but people will never forget how you made them feel."
– Maya Angelou
---
Phone and Text Banking
Join us to mobilize voters at virtual or in person events. Phone-banking outreach is second only to canvassing because the more personal the outreach is, the more effective it is. The combination of phone and text banking is an effective way to get out the vote. Training is provided.
---
Write Postcards
Write friendly notes to voters from your home or get together with friends and help get out the vote. We provide lists and supplies.
---
Display a Yard Sign
Show your support for our candidates and causes by placing a sign in your yard.
---
Fundraising
Host an event or organize an initiative to raise funds to support our activities, candidates, and community outreach efforts.
---
Community Events and Education
Mount Olive Democrats host booths at our town events to register and educate voters. We also host educational non partisan forums. Past events have covered – Gun Safety, Mental Health, Covid 19 Vaccines, Tenants Rights & Guide to MO Trails
---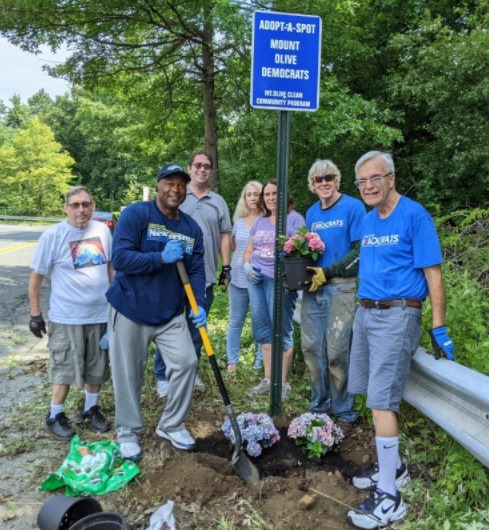 Community Service
We host a food drive on the first Saturday and environmental events on the third Saturday of each month. We have Adopted a Spot on Link Road and also maintain a portion of the White Trail as Trail Stewards.
---
Write Letters to the Editor
This is an effective way to communicate to a wide audience. Training and proofreading is provided.
---
Contribute copy, graphics and photos for our website, newsletter and social media .
Your talents are needed to create powerful messages to educate and inspire.
---
Attend Municipal Government and Board of Education Meetings
Our Town Council and Board of Education make decisions that affect our everyday lives. Attend meetings and hold our elected representatives accountable.
---
Join our District Leader Team
Mount Olive is made up of 22 districts. Two committee persons represent each district from each political party. They are the party officials at the most local level. Training and support is provided. You can have tremendous impact as a District Leader!
---
Sign Me Up!